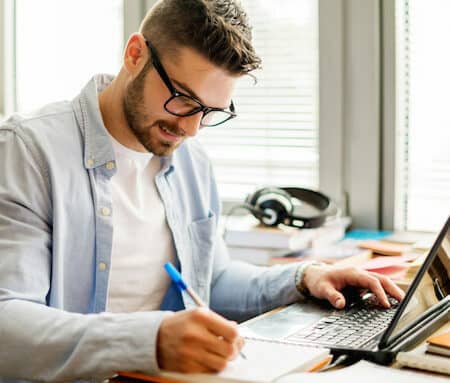 Tuition Planning
Thanks to our Locked-In Tuition program, you'll know exactly how much your degree will cost. And you will protect yourself against future tuition increases. Our team of advisors will help you figure out how to fit college tuition costs into your budget. From the day you're admitted through graduation, you'll know exactly what to plan for. And as long as you meet the criteria listed below, the cost of your tuition will not increase.
Locked-In Tuition Eligibility
Locked-In Tuition is available to all new online undergraduate students, including transfer students, and students in most online graduate degree and certificate programs.

The program does not apply to continuing undergraduate or graduate students.

Community college students may receive Locked-In Tuition by declaring an intent to transfer to ACU Online when submitting an application and pathways form.

Students must be in good academic standing and maintain a minimum 2.0 GPA.
Frequently Asked Questions
1) What is Locked-In Tuition?
ACU Online's Locked-In Tuition program ensures that a student's base tuition rate remains the same for the length of their program.
2) What price can I expect to pay?
Locked-In Tuition will freeze the tuition rate or price per credit hour once the student starts their first term. Currently, the undergraduate price per credit hour is $395 and the price for most master's degree programs is $650 per credit hour. It will not apply to any fees or the cost of books.
3) Does Locked-In Tuition only apply to new undergraduate students?
Yes. Locked-In Tuition is an ACU Online pilot program and only applies to new, first-time students. Current ACU Online students are not eligible for this program.
4) Will Locked-In Tuition impact my financial aid?
The cost of attendance for students in the program will be calculated as the average cost of attendance over the length of their program, as appropriate under federal guidelines. For further clarification, contact an admissions advisor.
5) Does my application to ACU Online lock my tuition?
No. An application and acceptance to ACU does not automatically lock your tuition. A student must meet all qualifications and start their first term.
6) Do I need to apply for Locked-in Tuition?
No. New, first-time online students will automatically be enrolled.
7) What GPA is required to remain qualified for Locked-In Tuition?
Students must be in good academic standing and maintain a 2.0 or better GPA.
8) What amount will I pay if I'm no longer eligible for Locked-In Tuition?
A student who no longer meets the program's requirements will pay the current rate of tuition for the term they are enrolling.