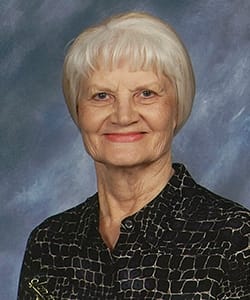 Dr. Ina Lynch Green ('63), professor emerita of psychology at Abilene Christian University, learned the name of every student in her classes every semester, because individuals mattered. Not only her students mattered, but the poor, widows, minorities and anyone who didn't have status. In her research and teaching she was an advocate for exceptional children.
"She had a strong sense of social justice and compassion and empathy for everyone," her daughter, Dr. Heather Green Wooten ('80), recalled. "That was the fundamental teaching of Jesus."
Green died Feb. 5, 2020, in Abilene, Texas. She was 89. A family visitation is planned Tuesday, Feb. 11, from 5-7 p.m. at Piersall Funeral Directors (733 Butternut St., Abilene, Texas 79602). The funeral will be Wednesday, Feb. 12, at 1 p.m. at University Church of Christ (733 E. North 16th St., Abilene, Texas 79601), with burial at Abilene Municipal Cemetery (1133 Cottonwood St., Abilene, Texas 70601).
Ina Green's career and retirement were marked by leaps of faith that in turn marked the lives of students for three decades, and for 11 years more in Poland, where she and her late husband, Dr. Brent Green, professor emeritus of art and design, made annual trips to work with a church in Jastrzebie. They also supported the Zambian Medical Mission for many years, and supported their son and grandson during several trips with the team. In 2007 they went themselves.
Family and colleagues describe her as ahead of her time. She was the first female professor in ACU's Department of Psychology and the first woman elected chair of the Faculty Senate in 1980-81. The couple were the first of several to both serve on the faculty with doctorates and as full professors.
She was born March 13, 1930, in Ennis, Texas, the second child and only daughter of Bertie Wayne and Barbara Gertrude Lynch. She moved to Baytown at age 12 after her father obtained a wartime job as a pipefitter for the Exxon refinery there.
Two years later she met her future husband in a high school history class.
"She had a crush on him and told him she was going to buy him a Valentine, and asked if he was going to buy her one," her daughter recalled. He did. They started dating and were married five years later, May 29, 1949, after finishing two years at Lee College.
They moved to Austin where Brent attended The University of Texas at Austin and she began studies in costume design and textiles during the semesters they could afford for both of them to be in school. After stints in Oklahoma and El Paso, they settled in Houston, where Brent worked as a draftsman.
After visiting Abilene Christian for its Bible Lectureship, they decided, "We're coming up here as our mission to serve God." In that leap of faith, Brent took half the salary he'd earned in Houston and the pair moved from their three-bedroom home to a one-bedroom apartment with two small children. Ina went back to school to complete a bachelor's degree in psychology in 1963, but her earlier studies in costume design were reflected in a lifelong fashion sense that prompted her to be the first female faculty member to wear a skirt above the knees. "Her students applauded," Wooten recalled.
After Green finished her undergraduate degree the family moved to Ohio for graduate school. She completed her M.A. in psychology in 1965 and Ph.D. in psychology of exceptional children in 1969, both at The Ohio State University.
"That move was a leap of faith for them," son Dr. Bill Green ('77) said. "They had never been north of Oklahoma."
Upon returning to Abilene, she was promoted to assistant professor in 1967, associate professor in 1972 and full professor in 1978. Locally, she consulted for the West Texas Rehabilitation Center, Abilene State School, Texas Department of Human Resources and was on the board of the Rape Crisis Center, ARK of Abilene and the Taylor County Restitution Center.
She taught courses on child psychology, abnormal psychology, the emotionally disturbed child, mental retardation and exceptional children.
Dr. Stephen Allison ('76), professor and holder of the Robert and Mary Ann Hall Chair for Psychology and Intercultural Studies, was her student in the 1970s and colleague beginning in 1984 until the Greens retired, together of course, in 1998.
Allison described her as "Tall, classy, funny and smart … ahead of her time. Ina Green was a role model of excellence in the classroom and Christian service in life."
Allison said Green's students would all attest that they had to read the material and come prepared because she gave a pop quiz every single class period. She encouraged students who were timid about applying for grad school to take a leap of faith.
"She would always say, 'God will take care of you wherever. Go to Yale!  Go wherever!' " son Bill said.
She was preceded in death by her parents, and her husband of 67 years. Survivors include her son, Dr. Bill Green of Kingwood and his wife, Melissa; daughter Dr. Heather Green Wooten of Kemah, Texas, and her husband, Kevin; four grandchildren, Laura "Katie" Campbell Scurfield ('05) of London, England, Audrey Campbell Derfler  of New York City, Brent Green III of College Station, Texas, and Amanda Green ('19) of Abilene, Texas. She also is survived by two brothers, Lyndon Lynch of Shawnee, Kansas, and Fred Lynch of Victoria, Texas.
Author's note: Dr. Ina Green was honored by students in the W Club with their annual Role Model Award, given to the ACU faculty or staff member who serves as an outstanding example of Christian womanhood. She also was a willing mentor and encourager to younger women on the ACU faculty. I am grateful to have been one of those.
— Ron Hadfield
Feb. 10, 2020