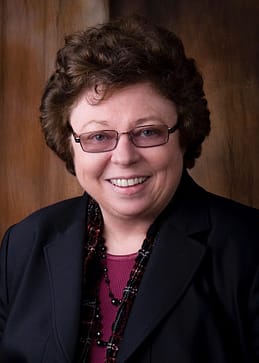 Dr. Sarah "Sally" (Johnston '69) Reid, professor emerita of music, died Dec. 21, 2019, in Nashville, Tennessee, at age 71. Memorial service arrangements are pending.
Reid was born Jan. 30, 1948, in East Liverpool, Ohio, and graduated from Box Elder High School in Brigham City, Utah, in 1965. She earned a Bachelor of Music Education degree from ACU, a master's degree in music theory/composition from Hardin-Simmons University (1970) and a doctorate in music theory from The University of Texas at Austin (1980).
She married Dr. Brad Reid ('70) on Aug. 18, 1974, and they each taught on the ACU faculty – she in music and he in business – for more than three decades.
Reid was an award-winning music faculty member from 1970-2001 as an instructor (1970), assistant professor (1974), associate chair (1978), chair (1979), associate professor (1980) and professor (1986). Her primary teaching fields were oboe and English horn, and music theory. She also was a pioneer in digital synthesis.
She was Department of Music chair from 2008-16 at Lipscomb University, where she retired as professor in 2017. Under her leadership, Reid grew its music program from a department to a School of Music and to achieve an All-Steinway School status, among other accomplishments. She also was an important voice in helping shape Lipscomb's George Shinn College of Entertainment & the Arts, and in creating a commercial music degree program.
A prolific composer, she won a composition prize from Mu Phi Epsilon, a number of American Society of Composers, Authors and Publishers (ASCAP) awards, and her Fiuggi Fanfare for saxophone quintet won first prize at the Fifth International Festival of Women Composers at Indiana University of Pennsylvania in 1998. Reid served as editor of the International League of Women Composers (ILWC) Journal (1991-95) and as president of the International Alliance for Women in music (1999-2000).
She appeared in the documentary The Devil and Daniel Johnston in 2005.
Her Jesus, Redeemer, Messiah composition, with lyrics by Dr. Cheryl Mann Bacon ('77), was performed in September 2000 in Rome's Vatican Audience Chamber as part of the Roman Catholic Church's Jubilee 2000 celebration.
Reid was a longtime member of the Abilene Philharmonic Orchestra. Reid also chaired the music advisory panel for the Texas Commission on the Arts, and served on the Board of Officers and Directors of the Texas Association of Music Schools.
She was preceded in death by her parents, William Dale Johnson and Mable Ruth Voyles Johnston; and a brother, Daniel Johnston.
Among survivors are Brad, her husband of 45 years; daughters Julia (Reid '07) Edgecombe and Sarah (Reid '05) Gibson; a son, William Reid ('11); two grandchildren; a brother, Dick Johnston ('76); and sisters Cindy Johnston Brewer ('74) and Marjory Johnston ('74).
— Ron Hadfield
Dec. 21, 2019