Once upon a time – on May 21, 2015, to be exact – the 84th Legislature of the State of Texas designated Abilene as the official
Storybook Capital of America
.
This week's
Children's Art and Literacy Festival
, or CALF, is one of the reasons why, and Abilene Christian University characters are playing their part to make the annual event a success.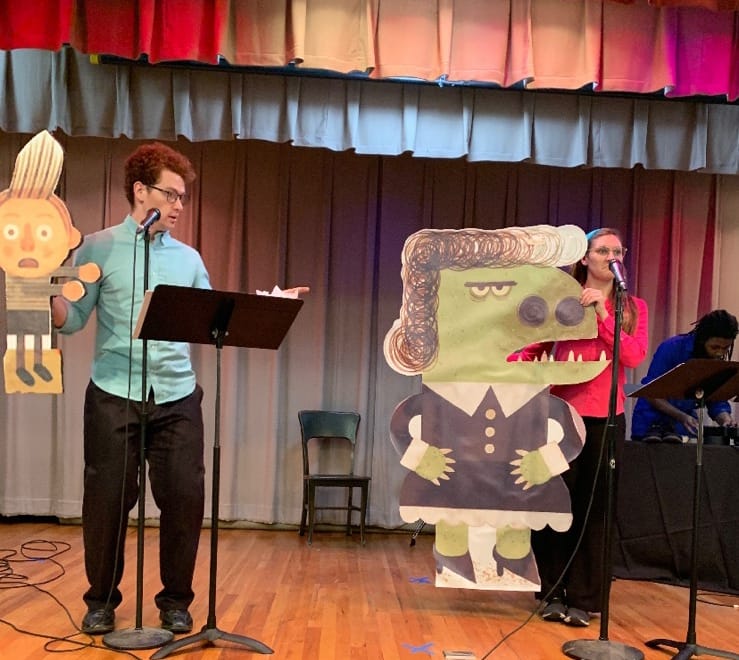 The eighth annual festival, which runs today through Saturday, celebrates children's book illustrator
Peter Brown
. His best-seller
My Teacher is a Monster
will come to life with help from a group of ACU Theatre students, who will perform several 20-minute shows at the Abilene Public Library throughout the event.
Retired theatre professor
Gary Varner
wrote and directed the show, which features musical theatre majors Zula Pryor, L.J. Brodie and Griffin Jones. (
See the schedule here.
)
"ACU Theatre is thrilled to collaborate with the Abilene Cultural Affairs Council for the third year on CALF," said theatre department chair

Dawne

 (Swearingen '95) 

Meeks

. "We are so proud to represent live theatre for the Storybook Capital of America and are honored to be part of the amazing festival."
Also during the festival, ACU alumna and Abilene native
Jessalyn Claire (Massingill '11) Beasley
will be on hand to sign copies of her debut children's book
Little Birder: A Field Guide to Birds of the Alphabet.
Her book was recently twice recognized at the 13th annual National Indie Excellence Awards, winning the children's nonfiction category as well as the Juror's Choice Award.
Little Birder
introduces a North American bird for each letter of the alphabet. The 60-page, hardcover book has a full-page illustration and descriptive text page for each bird. It also includes tips for observation, a birdwatching journal and a basic lesson in drawing birds.  
"This is not just a book to teach children the alphabet, or about the birds," says Beasley. "It is meant to help foster the observative and curious natures of little humans, and hopefully, where needed, help awaken that of their grown-ups in the process." Although it was written for children, she says, the information and illustrations have connected with an adult audience as well.
While at ACU, Beasley studied art and design. She is married to
Ben Beasley ('13)
and they live in Chattanooga, Tennessee, with their daughter, Thalia.
The book signing will take place from 11 a.m. – 1 p.m. Saturday at Texas Star Trading Company, 174 Cypress St.
ACU also is leaving an imprint on the Storybook Art Adventure Trail that meanders through downtown Abilene starting at the
Adamson-Spalding Storybook Garden
on the southeast lawn of the Abilene Convention Center.
New this year is a collection of concrete storybook benches on which visitors can relax as they make their way along the trail. Each bench features a literary quote selected by the sponsor.
The ACU-sponsored bench is located at North 3rd and Cypress outside of the Paramount Theatre with a quote from Ed Young's
Voices of the Heart
: "When the heart feels empathy for the oppressed, it has been touched by grace."
Learn more about the
2019 Children's Art and Literacy Festival
.