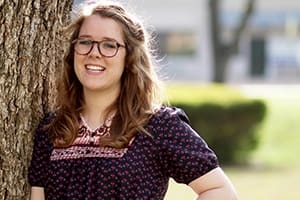 Abbey Moses used to tell her friends she'd never go to college.
As a teenager, she traveled to Africa and South America on mission trips, even flying to Bolivia – by herself – at 16 to work in an orphanage. She was already finding ways to experience and better the world, she thought, so why stop and earn an advanced degree?
Her mind changed once she graduated high school early and in 2012 toured the U.S. as an ambassador for Invisible Children, an organization raising awareness of the rebel militarized cult the Lord's Resistance Army in Central Africa and its use of child soldiers.
"I was living with Ugandans who had survived a civil war," she says. "It was really their influence that led me to ACU: These incredible women had fought for a high school education, hiding in bushes overnight so they could attend school in the morning and feel safe.
"I saw their hard work, and I saw the opportunity I had. They inspired me."
The junior pre-law political science major from Abilene was recently elected as president of the Students' Association after serving as vice president for her junior year. She has worked to improve nutrition among children in Cambodia for the Worldwide Witness program; heads up various environmental and social justice organizations such as Red Thread Movement; and is a Jack Pope Fellow. She plans to either attend law school or begin a master's program in terrorism and political violence, followed by a doctorate in public policy and peace.
Justice is her cause, and she says she is thankful she can attend a university that is dedicated to fostering global-minded servant leaders.
"The call to serve the marginalized is what Jesus asked of us," Abbey says. "That manifests itself in different ways for different people. ACU is a place where I've been able to focus on my passions and develop my leadership skills for a future. I'm so thankful to all of the professors and others who have prepared me to be in the roles I'm in now."
Here, Abbey also is able to mentor freshmen women through the Student Opportunities, Advocacy and Resources (SOAR) program. She's an ally for peers who need additional support, be it emotional, spiritual or financial. This role has made her even more thankful for the aid she and students like her mentees receive, she says, and for the donors who help make their education possible.
"Scholarships are so important and can truly change the life of a student in need," she says. "I'm thankful for the support I receive, and I know that in the future, I'll be able to give back to scholarships for students."
That future is looking bright. No matter where she lands or in what role she serves, she says, it will be to the benefit of others.
"Some days, I really want to move to Cambodia, live in a village and pour all of my love into a community," Abbey says. "Other days, I'm like, 'I could be president of the United States.'
"We'll see where the Lord takes me."