We are excited you have chosen to continue your education with us in Graduate Programs at Abilene Christian University. Each of our programs is designed for excellence in its field and to fulfill the university's mission of educating students for Christian service and leadership throughout the world. In each program, you will find leaders in their disciplines who embrace using their knowledge and gifts in paths of service and hope to become mentors and friends during your time here.
Each year, within your department and across the university, there are abundant offerings designed to help you grow personally and professionally. I encourage you to engage in these opportunities as much as you can. Connecting with the Graduate Students' Association is an excellent first step in finding avenues for community, resources available to graduate students and hearing news about opportunities outside of your program. We are proud of the way faith and learning are woven together in our community, and I would encourage you to seek out small group chapels or Bible studies that nourish your spirit during your time here.
This handbook contains a summary of information regarding the Office of Graduate Programs' procedures and a link to the Graduate Programs' section of the ACU Catalog concerning policies. The handbook will assist you as you progress through your graduate academic career at ACU. It is meant to answer many of your questions and provide an overview of pertinent information. Please contact our office at any time for further assistance.
As you pursue your academic goals, I hope you find the process itself to be rewarding. I am glad you are here.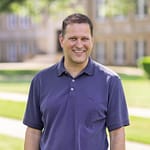 Grace and peace,
Dr. Bill Carroll
Assistant Provost for Residential Graduate Programs