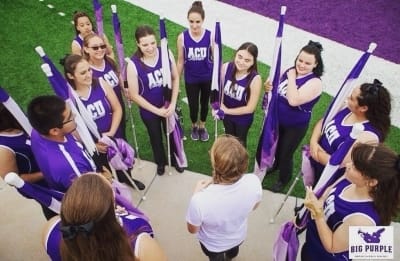 Experience
Potential members should have at least one year of colorguard experience. Exceptions can be made on an individual basis, especially for those with experience in twirling, cheerleading or drill team.
Time Commitment
The colorguard is required to be present at all rehearsals and performances. The colorguard rehearses with the band three days a week (Monday, 11:50-12:45 & WF 11:15-12:45.) and has a sectional once a week outside of the scheduled band time. Sectional days and times will be determined by the co-captains and members based on schedules.
Scholarships
All colorguard members are eligible for the Big Purple scholarship.
Schedule for 2022
Friday, August 19
5-6:30 p.m. – Check in – WPAC lobby
7-9:30 p.m. – Meeting and Prep clinic – WPAC North Lobby
Saturday, August 20
9-11:30 a.m. – Auditions & Meeting – WPAC North Lobby
For more information please contact Laura Dickson or Becky Mathis.
Enrollment
All members of the colorguard must be enrolled in band. Band can be taken either for credit, no-credit, or P.E. credit. See question 5 on Big Purple FAQ for more information.
Captain/Lieutenant Auditions
The auditions for colorguard captain are held in the spring. To audition for captain/lieutenant, one year of experience in the ACU color guard is required.
See also: Acuity Winter Guard