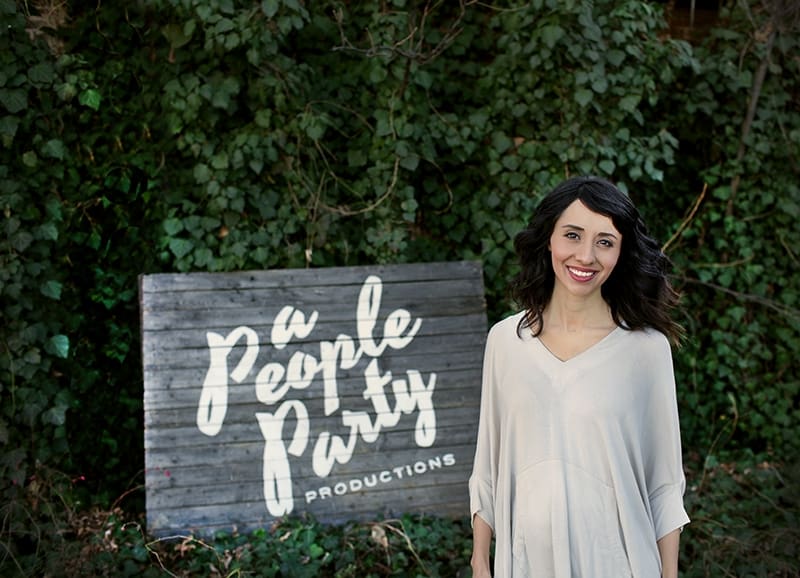 Achieving your dreams is never a straight path, and Jennifer (Fuentes '06) Harmel, creator of A People Party Productions, has traveled a winding road as her business has grown from a single pop-up market to a full-on marketing tool for businesses.
Jen started her business in 2013. At the time, she was a teacher and needed a creative outlet. Because there was no place to sell her crafts, she decided to organize a creative pop-up market featuring local musicians.
Jen said she organized a similar event, JamFest, when she was a student at ACU.
At first, she invited musician friends to play with her at Mezamiz Coffee House. Because that event was so successful, they decided to do it again, but this time tap into the creative arena, adding vendors and turning it into an all-day event known as the People Party Craft Fair. The craft fair is now a highly anticipated event she continues to produce every spring and fall. 
The craft fairs at Mezamiz did well, and Jen realized the event was a good way to market local businesses. "Little did I know I was actually tapping into network marketing at the time," she said. "Really, we just all had a lot of fun gathering people together."
In the beginning stages, Jen said, only about 20 vendors participated; now, they regularly max out at 50, filling their venues.
"We look for handmade and unique products made by individuals who have created their own brand," she said. "Our mission is to create a fun and friendly environment that provides more exposure for small shops and creatives #whereyoulive. Our craft fair events exhibit handcrafted and original items along with artists and musicians. Specific items have included hand-crafted bath and body products, vintage apparel, home goods, woodwork, graphic tees, paper goods, jewelry and other accessories, botanicals, and other unique items."
As Jen
'
s business continued to grow both vendors and customers, one of the hardest parts was figuring out how to communicate everything the business had to offer from promotional events to full marketing services. With her Bachelor of Fine Arts in Graphic Design, she has been able to successfully promote and brand her events and wanted to offer those services to the small businesses that took part in her curated events.
"We are passionate about promoting makers and creators, and passionate about local businesses."
In addition to craft fairs, Jen said, A People Party Productions is testing the waters with YouTube and workshops. The company already has a strong presence on Instagram and Facebook.
"
All along I was doing something that I was passionate about, which is bringing people together, connecting them, and spreading the word,
"
she said.
"
Little did I know this was all something I could monetize or do as a business.
"
One of the biggest opportunities for the business was cracking into the Austin market. This gave Jen the ability to look for new vendors, tap into the culture of Austin and add to the credibility of A People Party Productions.
"
We
'
ve held two big People Party Craft Fairs in Austin, as well as two mini pop-ups,
"
she said. We
'
ve had the opportunity to partner with some fun Austin locals including Magnolia Cafe, Space 24 Twenty, Vegan Wonder and The Refinery.
" She has also brought Austin vendors to the Abilene craft fairs.
Jen views her business as a calling and wants it to be representative of the story of Esther. Though God was never mentioned, he was always present in Esther's journey.
"Instead of worrying about whether or not people know I'm a Christian, I feel like the bigger opportunity to share my faith comes from being the best at what I do. I want to earn people's trust. Then when they find out we are Christian, they are much more open and intrigued by our values," she explained.
Though her background isn't in event planning, Jen said her graphic design degree has opened a variety of doors.
"I think it's just amazing that God led me on this path of graphic design," Jen said. "It has allowed me to pursue any idea I have."
A lot of the support to follow her dreams came from her professors and community at ACU.
"I'm really grateful for my time at ACU and it being Christ-centered," Jen said. "I think that's a gift and it offered me the community I needed. Knowing your professors are full of integrity and want what's best for you, it's really comforting."
Jen said one of the greatest gifts of ACU is how well it prepares students for the real world. "I've been ready for every part of the journey of A People Party Productions," she said.
---