Learn More
Master of Athletic Training
Complete this short form to learn more about our Master of Athletic Training (MAT) program. ACU's Office of Graduate Programs will reach out shortly to discuss your interests and answer your questions.
Athletic trainers don't simply assist patients' recovery from muscle- and bone-related injuries — they're passionate, in-demand professionals dedicated to serving, uplifting and empowering their communities through health promotion and injury prevention.
We value all that you bring to the Master of Athletic Training program and seek to build off your enthusiasm and existing knowledge. Our dynamic, respected program takes a holistic approach to career preparation, imbuing you with the concepts and clinical experience to pursue certification and exceed workplace expectations to make an impact from day one, all while cultivating the Christ-centered mindset to encourage and foster your patients' health and recovery.
Program Structure
What To Expect
A mixture of coursework and clinical practice in line with Commission on Accreditation of Athletic Training Education (CAATE) standards prepares you to take the State of Texas Athletic Training Licensure and the National Athletic Trainers' Association Board of Certification (BOC) exams and propels you toward a rewarding career guiding others through evidence-based practice, prevention and health promotion, clinical examination and diagnosis, acute care and therapeutic interventions.
Required Hours
Program length: 24 months (June start)
Credit hours: 55
2023/2024 tuition per credit hour: $871
Example Coursework
Care and Prevention of Athletic Injuries
Lower Extremity Assessment of Injury
Nutrition for Exercise and Sport
Pharmacology
Department
Kinesiology and Nutrition
Application Deadlines
Priority Review: February 1
Standard Review: May 1 (Deadline may extend if space is available)
Frequently Asked Questions
Curriculum
Coursework exploring therapeutic injury prevention, management methods, diagnostic and treatment strategies, human anatomy and pharmacology is paired with clinical experiences in which you'll apply what you've learned in the classroom in a real-world setting and simultaneously prepare for the workplace. You'll develop the presentation, competencies and leadership required to collaborate with doctors and other health care professionals and serve your community through exemplary, compassionate health care.
Structure
We divide the athletic training program into two parts. Didactic courses welcome your curiosity by going over key principles, theories and applications within the context of sports medicine. You'll then engage in two types of hands-on experiential opportunities:
Clinical Experiences:

You'll participate in one clinical experience per semester, guided and observed by an athletic training professional. Students learn to assist a diverse group of patients through opportunities with college, professional and high school sports teams, in clinical settings, in a physical rehabilitation or sports medicine clinic or in ACU's own athletic training facility.
Immersion Experiences:

Working alongside an athletic training professional, you'll gain essential skills for entering the job market after graduation. Beyond applying classroom knowledge, you'll begin to understand what's expected of you as an athletic trainer or in a related field. 
Two paths lead you to the Master of Athletic Training program:

Two-Year Master's Program:

You'll apply after completing your undergraduate degree. Although we welcome all candidates who've earned a bachelor's, prerequisite courses in human anatomy, human physiology, exercise physiology, kinesiology/biomechanics, biology, physics, chemistry, psychology, statistics and nutrition set you up for success. You'll then dedicate yourself to this intensive, two-year program requiring a minimum of 55 credit hours.
Five-Year Bachelor's-to-Master's Program (3+2):

If your eventual goal is to enrich your local community through athletic training, start on your journey as an undergraduate with our five-year program. As a first-year student, you'll enter the Bachelor of Science in Kinesiology, Pre-Athletic Training (KATD) track, and apply for admission to the master's program during your third year. Your last two years follow the standard master's course sequence. At the completion of five years, you'll have earned a bachelor's and master's and be prepared to seek certification both through knowledge and completed clinical hours.

Learn more about the integrated 3+2 program

.
Clinical Education
Each MAT student will have the opportunity to work with multiple sports teams as well as gain traditional clinic setting experience during their 6 semesters at ACU. Additionally, each student will complete at least one 4 – 6 week immersion experiential learning experiences where he or she is required to commit all time and effort (no classes during this time) to their experience. Some clinical experiences may include:
NCAA DI – football, men's and women's basketball, indoor and sand volleyball, men's and women's golf, men's and women's tennis, track and field, cross country, women's soccer, women's softball, baseball
NCAA DIII – football, men's and women's basketball, women's volleyball, baseball, softball, track and field, cross country, men's and women's golf, men's and women's soccer, men's and women's swimming, and men's and women's tennis
UIL 6A High School – football, girls' volleyball, girls' softball, boys' baseball, boys' and girls' gymnastics, boys' and girls' swimming, boys' and girls' powerlifting, boys' and girls' tennis, boys' and girls' golf, boys' and girls' soccer, boys' and girls' track, boys' and girls' cross country
UIL 5A High School – football, girls' volleyball, girls' softball, boys' baseball, boys' and girls' gymnastics, boys' and girls' swimming, boys' and girls' powerlifting, boys' and girls' tennis, boys' and girls' golf, boys' and girls' soccer, boys' and girls' track, boys' and girls' cross country
Physical Therapy Clinic
Outreach Athletic Training Clinic
WNBA
MLB Class AA
Rodeo
Outcomes
Goals & Outcomes
Goals
Graduates will apply their athletic training skills and knowledge in the areas of evidence-based practice, prevention and health promotion, clinical examination and diagnosis, acute care of injury and illness, therapeutic interventions, psychosocial strategies and referral, healthcare administration, professional development and responsibility to improve the quality of professional medical care in their community while reflecting Christian values.
Outcomes
The program will prepare graduates to:
Integrate faith and learning while offering athletic training services to those in need through schools, churches, hospital outreach, and other settings.
Obtain employment in athletic training or related field.
Assume leadership roles in the workplace and/or professional organizations.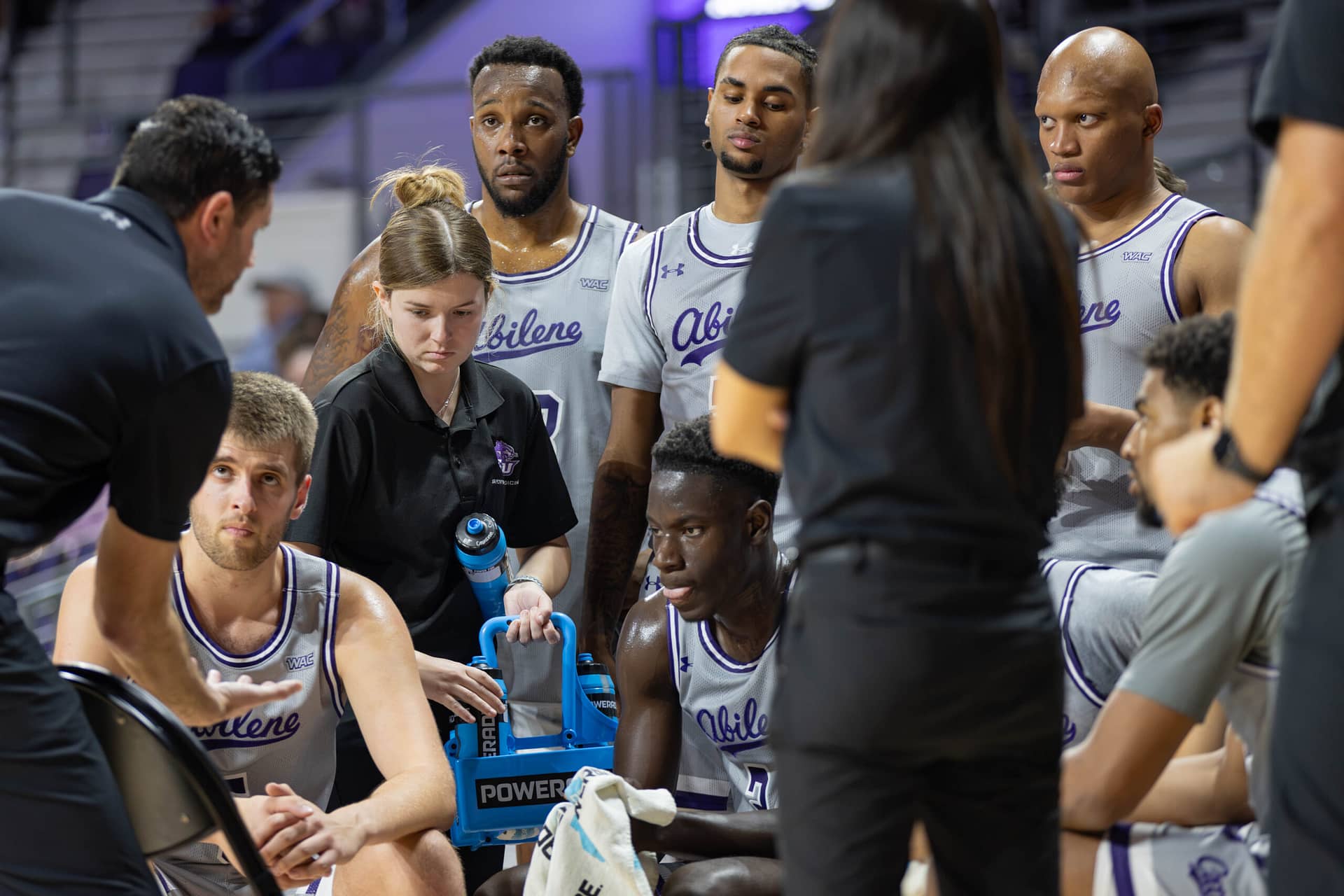 Career Paths
Athletic trainers collaborate with or practice under the guidance of a physician to improve a patient's activity or aid in their recovery. More and more, athletic trainers occupy an integral role in today's health care system, overseeing injury prevention, rehabilitation, diagnosis, wellness and intervention involving emergency, acute and chronic conditions. 
Opportunities arise from directing the treatment of individual patients in a fitness center or rehabilitation clinic to assisting professional sports teams and government employees. Reflecting this spectrum, the Bureau of Labor Statistics identifies 16% growth for these positions through 2029.
Potential settings for athletic trainers include:
high schools;

community colleges;

four-year colleges and universities;

industrial and occupational health care clinics;

military bases;

government and first-responder organizations;

professional sports;

sports medicine clinics;

physician offices and hospitals;

fitness centers;

fine and performing arts; and

athletic training education programs.
Ramonica Scott, PhD, LAT, ATC
Master of Athletic Training Program Director
Assistant Professor
Immersion & Supplemental Experience Coordinator
Department of Kinesiology
Applicants must complete an ATCAS (Athletic Training Centralized Application Service) application. NOTE: There is a one-time, $85 application fee charged by ATCAS. In addition to completing the ATCAS application, ACU requires an application to the ACU Graduate school. Fortunately, all your information from ATCAS is automatically uploaded to the ACU Graduate school after you submit your ATCAS application. The ACU Graduate school fee is still required. Please click here to pay the ACU Graduate Application fee (which is separate from the ATCAS fee).
Bachelor's Degree – Completion or near completion of a bachelor's degree at an accredited college or university. Applicants must submit official transcripts for review. Admissions are made on the assumption that applicants (except ACU KATP 3+2 applicants) will have the bachelor's degree by the time of matriculation, and if not, the MAT program admission is void.
Prerequisite Coursework – All prerequisite courses must be completed prior to matriculation and must be three to four credit hours each. Click here to see the Prerequisite Policy. Prerequisites are:

Biology
Chemistry
Human Anatomy (or A&P I)
Human Physiology (or A&P II)
Physics
Psychology
Exercise Physiology
Kinesiology/Biomechanics
Statistics (basic)
Nutrition

GPA – An overall GPA of 3.0 is suggested to apply. Prerequisite and general science course grades will be reviewed.
Resume/Curriculum Vitae
Letters of Recommendation – Each applicant must obtain three letters of recommendation. Letters of recommendation should be completed by individuals who: (a) have supervised observation hours during any health care-related volunteer or paid work; (b) are previous or present instructors and/or advisors; (c) are previous or present employers; and (d) are health care professionals. Letters of recommendation should include elements demonstrating the applicant's: (a) willingness to learn; (b) integrity; (c) perseverance; and (d) ability to interact with patients/clients. Letters of recommendation are submitted online through the ATCAS Application (see link below).
Personal Statement – A written statement (600-800 words) describing how professional goals, interests, and faith all led you to apply to the Master of Athletic Training Program at ACU.
Please note that additional information will be required upon admission to the M.A.T. program at ACU. This includes:
Fifty hours of observation directly supervised by a certified and licensed athletic trainer in the spring semester prior to enrollment at ACU. Observation hours must be documented and signed by the supervising athletic trainer on this observation hours form.
A complete physical with medical history
Proof of immunizations (including TB test)
Drug test
Criminal background check
Proof of professional liability insurance
Proof of Health Insurance
Your admission to the program is not final until all the post-admission requirements are met. They must be completed by June 1.